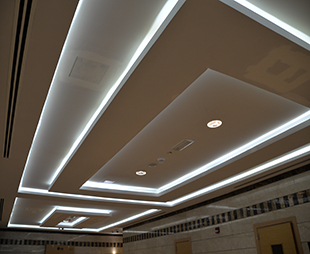 Where:
Abu Dhabi, United Arab Emirates
What:
Al Reem Island is a new residential suburb of Abu Dhabi that has grown to become one of the most sought-after communities, with a thriving retail and dining scene. Its mix of residential and commercial properties show the best in modern design. One of the island's most impressive developments is the Sheikh Omar Bin Zayed Tower. Among the highest residential towers in Al-Reem Island and Abu Dhabi, this tower offers a wide range of high-quality apartments of varying sizes, as well as excellent communal areas and commercial units.
OPPLE solution:
OPPLE's lighting design team faced two major challenges with this project. The first is the climate. Abu Dhabi is renowned for its high temperatures, with 36°C (98°F) or more being usual in the summer. All of the lighting in external or exposed areas needs to be robust enough to deal with high temperatures without affecting either lighting performance, or the visual appearance of luminaires. As a high-quality residential building the lighting in public and communal areas must complement the modern and luxury aesthetic of the development. Inside apartments, the aim is to provide a cozy and homely feel. Residents also expect a complete lighting solution, with a range of products that can enhance the different areas of their apartments appropriately while delivering low running costs. By fitting cutting-edge OPPLE LED products throughout, the operator of Sheikh Omar Bin Sayed Tower has seen immediate energy cost savings. These have been accompanied by an instant improvement in the building's environmental rating – an important factor for modern residents. When it comes to a luxury aesthetic, hidden lighting is a superb way to enhance any scheme, giving a high-end and contemporary feel. By using OPPLE's extremely flexible LED Utility Strip HV in a variety of creative installations, OPPLE's lighting designers have enhanced the residents' and visitors' experience in both public and private areas. In communal areas such as corridors and lobbies, the LED Utility Strip HV has been used to cleverly accent architectural features, highlighting the building's design. The Utility Strip has also been widely used in stairways and other access points to provide subtle modern illumination that contributes to safety and visibility as well as enhancing the luxury ambience of the building by using a lighting system that's hidden from direct sight. For use in the traditional light fixtures fitted inside residential apartments, OPPLE supplied its LED EcoMax bulbs. Featuring traditional incandescent bulb styling, the bulb delivers a rich, warm light over a wide area which also gives a familiar, cozy feel but uses 85% less energy than conventional alternatives. In communal areas, the OPPLE LED Downlight HM/HR and LED Slim Downlight Ecomax III were used to give stylish, recessed lighting. Unlike traditional CFL fittings, OPPLE products are flicker-free, making them a perfect option for use in a luxury development. In the tower's underground parking garage the extreme humidity and dusty environment presented a tough lighting challenge. Because of their robust design and IP66 rating, OPPLE Waterproof Performer were used throughout the area. Their high output provides a safe environment for drivers and pedestrians, and OPPLE's LED technology offered instant energy savings in an area where the lights are on 24 hours a day.
Outcome:
OPPLE's high-quality solutions have been superb. They have given the clients excellent lighting performance, lower running costs, and a luxury feel that perfectly suits their property and residents.