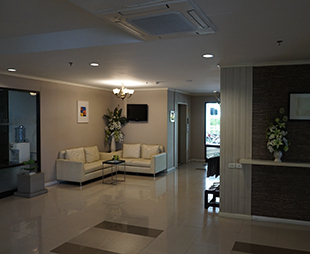 What:
Lumpini Developments is Thailand's largest property development company. Their flagship Lumpini Park development in Northern Bangkok is amongst their most prestigious and ambitious residential projects. Phase one includes the recently completed Rama 9 condominium. This outstanding high-end development features 900 apartments, and a whole community infrastructure including shops, leisure facilities, parking and play areas. Lumpini Developments chose to partner with OPPLE to provide all their communal area lighting solutions.
OPPLE solution:
Such a large lifestyle development features many communal areas that need to be elegantly and safely lit, as well as special areas such as parking garages and sporting facilities. It was important that lighting throughout was stylish, welcoming and comfortable for residents and guests, but with such a large development it was also vital to reduce maintenance and running costs as much as possible, as well as meeting a strict installation budget. Using several of our cutting edge products, OPPLE's engineers designed communal area lighting schemes for Rama 9 that provide warm, bright and welcoming illumination with stylish luminaires. The LED Slim Downlight EcoMax II gives exceptional high-lumen output, flooding communal spaces with beautiful, even light using elegant contemporary fittings, providing a great welcome for residents. Feature lighting in lobby areas adds a touch of class by using ceiling and floor lamps. LED replacement bulbs for standard light fittings usually emit a narrow angle of light, reducing the effectiveness and attractiveness of table and floor lamps. OPPLE's LED EcoMax I replacement bulbs have been designed to offer the widest light diffusion possible. This means that now the lamps not only benefit from low energy costs, but they provide a much wider spread of illumination, enhancing the beauty and practicality of these lighting features. In areas like the car park where the priority is safety, the OPPLE LED Utility T8 tube performs superbly. Giving strong, even illumination it enhances safety and feelings of security in areas that are often traditionally poorly lit, and the flicker-free operation makes driving here relaxing and stress-free. All OPPLE's LED products are engineered with exceptionally long lifespans, substantially reducing our partners' maintenance costs. And with OPPLE's LED bulbs and luminaires offering energy savings of up to 60% compared to traditional alternatives, running costs are slashed as well as helping our partners to achieve their environmental goals and demonstrate their green credentials to potential residents.
Outcome:
OPPLE proved to be the perfect partner to deliver beautiful lighting solutions to Rama 9 that please their residents and save them money.