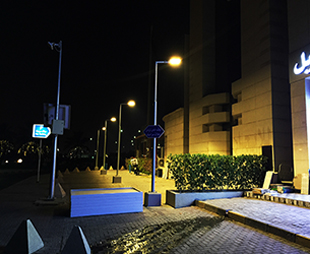 What:
Life Center Mall in Kuwait City is an integrated shopping and leisure facility. Featuring coffee shops, food outlets and a wide variety of fashion and electrical retailers, the mall is located close to a busy road and enjoys high footfall from pedestrians entering from the sidewalk and paved entrances. External spaces were lit with traditional metal halide street lighting
OPPLE solution:
The owners of Life Center approached OPPLE because they wanted to reduce the running and maintenance costs of their traditional street lighting. At the same time, they needed to improve the performance of their exterior lighting, ensuring outside spaces were inviting and clearly lit at night and providing visitors with a pleasant transition moving into and out of the mall. Because of adjacent roads, the solution also had to enhance safety for pedestrians with complete coverage without distracting drivers with excessive glare On top of this, the solution had to stand up to Kuwait's punishing summer climate, where intense sunlight and temperatures up to 50 degrees Celsius are common, requiring a very robust lighting unit. Working closely with the Life Center management, OPPLE's engineers replaced the traditional metal halide street lighting units with new OPPLE Street Light Perfomer units. The Street Light Perfomer is designed to be fitted quickly and easily to any existing light post, and it provides evenly distributed, high output lighting. OPPLE's engineers created a unique design that ensures an even spread of light with no dark spots. This provides maximum safety with beauty. The excellent light distribution means all parts of the road can be lit, and yet there's no overspill, meaning existing aesthetic or commercial lighting schemes are not affected. The Performer's weather-resistant design and quality finish means it can handle all climate conditions with ease, and it provides a modern and stylish look to the exterior of the mall. The simplicity of replacement meant that the Street Light Performers could be retro-fit in an extremely short time. Life Center immediately enjoyed savings of 50% on their energy costs whilst dramatically improving the exterior attractiveness of the building during the hours of darkness, greatly enhancing the customer experience.
Outcome:
OPPLE's Street Light solution was perfect – it meets all clients' needs, looks beautiful, and has halved their running costs overnight.