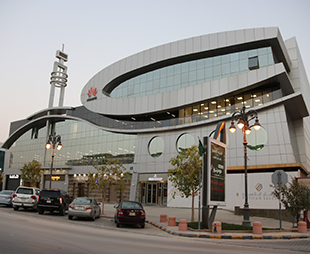 What:
Founded in China in 1987, Huawei has grown to become a world-leading provider of information and communications technology (ICT) infrastructure and smart devices. For their regional headquarters in Riyadh, Saudi Arabia, Huawei chose to renovate an older office building, transforming it into a state-of-the-art workspace with a modern design aesthetic and the highest-quality fittings. The total area of the development was over 7,000 square meters, comprising over 500 individual working spaces, including private office, open-plan work areas, meetings rooms, corridors, and reception areas. Huawei wanted a bespoke look to their office, and this extended to customized light fixtures and tailored illumination effects. They needed a full lighting design service.
OPPLE solution:
OPPLE was brought in to the project after most of the building's interior had been designed and fitted. Our lighting design engineers needed to provide appropriate lighting solutions that would complement and enhance the high-end décor, provide sufficient illumination for effective working, and meet Huawei's stringent procurement standards. They also wanted some a "signature lighting" feature in their main stairwell. A particular lighting design challenge with the Huawei headquarters was that traditional suspended ceilings were not used in all parts of the building. Several offices used open steelwork instead of the more common office interior design. This created a strong design aesthetic but meant that standard ceiling mount luminaires were not an option. Finally, the client was concerned with efficiency. Not only did they wish to have a low energy lighting solution throughout the building, but they also needed all lighting solutions to have a long service life, reducing maintenance costs to a minimum. Good lighting is recognized to boost concentration and improve the working environment. For the steel ceilinged areas, we used OPPLE LED Ecomax Linear Office. These were installed directly above desks to deliver the optimum lumen output where it was needed. These suspended fittings also complemented the "stripped back" design aesthetic and brought a complimentary layered look to the workspace. In offices with more traditional ceilings, we used OPPLE's LED Slim Panel Ecomax II. These units fit perfectly flush with the mounting surface, giving a clean and modern look. The excellent illumination performance of LED Slim Panel Ecomax II provided an ideal environment conducive both to comfort and staff focus. Lighting for meeting rooms always poses a complex challenge, with a large number of factors to be considered. These include light intensity, the position of fixtures, changing lighting needs for multi-function rooms, and many more. In Huawei's meeting rooms, OPPLE's designers used our LED Downlight HR and LED Ecomax T5 Batten working together to provide a bright and even light output. These allow meeting delegates to stay focused and alert, as well as giving a contemporary and sophisticated look to the rooms. In non-working areas that didn't need higher lumen outputs our designers cleverly suspended LED Surface Mounted Downlight HR from the steel ceiling beams. They provided an economical solution while maintaining the strong aesthetic of the building design. In key communal areas such as the employee service center, the main reception lobby and the entrance hallway to the building, OPPLE's LED Ecomax T5 Batten were used to create an eye-catching "light strip" design. As well as providing high levels of illumination, this look perfectly fits Huawei's image as a leading high-tech company. For the signature "light sculpture" in the main stairwell, OPPLE's LED Suspend Vesta were used, cleverly suspended from the upper ceiling using different cable lengths to create a unique and visually attractive lighting art piece. Because OPPLE were engaged to provide a full lighting design service to Huawei we were able to deliver a perfect lighting environment across all areas of the building, enhancing both the productivity and comfort of the workspaces and the décor of the building. By involving us from the very beginning of the lighting design process, we were able to deliver the project within budget and choose fixtures that will reduce Huawei's ongoing energy and maintenance costs.
Outcome:
OPPLE's designs have delivered stylish, high-performing lighting solutions that not only deliver great levels of illumination, but also match their building's style and, importantly, their overall brand image.