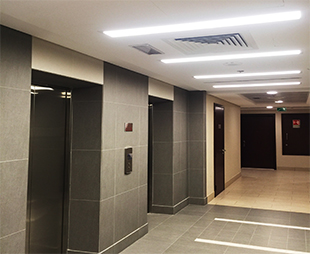 Where:
Abu Dhabi, United Arab Emirates
What:
The API Tower in Dubai is a high quality mixed residential and commercial development. Featuring luxury apartments and premium retail outfits, the building also hosts a showroom for one of the world's most prestigious car brands. The building is luxurious and yet embraces modern design and emphasizes light and space.
OPPLE solution:
The developer wanted to ensure that residents and commercial tenants would enjoy a luxurious and generous lighting scheme throughout the building. However, it was also important that ongoing running costs were controlled. The high-end residences used a mixture of traditional bulb fittings and recessed downlighters to provide a luxury lighting scheme in the apartments. For the commercial units, the developer needed a flexible lighting solution that would enhance the products on display whilst being flexible in use and reducing energy consumption. API Tower turned to OPPLE's team to provide a range of products that would satisfy the demands for low energy consumption without compromising on the luxurious feel the developer required. For standard light fixtures throughout the residences, OPPLE provided it's LED EcoMax1 bulb. Featuring traditional incandescent bulb styling, the EcoMax1 delivers a rich, warm light over a wide area, whilst consuming 85% less energy than traditional alternatives. With each bulb lasting up to 20 years, these were a true "fit and forget" solution for luxury apartments. In communal areas and where accent lighting was required in residences, the OPPLE LED Downlight HM provide stylish, recessed lighting that is free from the flicker that traditional CFL fittings display, making them highly suitable for residential use. These luminaires offer 60% energy savings compared to inferior CFL units and provide a beautiful and luxurious lighting scheme for residents who are delighted with the results. Hidden lighting is a superb way to enhance any scheme, and provides a touch of contemporary luxury. By using OPPLE's extremely flexible LED Utility Strip in a variety of creative ways, residents and visitors experiences are enhanced throughout the building. In bedrooms, for example, the Strip provides hidden lighting that gives a warm and cozy glow that's perfect for a relaxing atmosphere. In public areas such as corridors or lobbies, the Utility Strip can be used to cleverly accent architectural features or to subtly illuminate stairways or other access points, providing visitors with an inviting and luxurious experience that's hidden from direct view.
Outcome:
OPPLE's solutions have more than achieved their energy saving requirements, and they provide the high-quality, luxury lighting experience that their residents demand.